Gamblers in Canada who are willing to venture outdoors to go bricks-and-mortar casinos are quick to find out that the gaming floors look very different than they did in 2019. Most table games are closed and there are fewer slot machines to choose from. Welcome to a new world of gambling: temperature checks, hand sanitizers, face masks and disinfecting wipes are the way of the future.
Casinos are the ultimate escapism but there is no escaping the realities of COVID-19. Much of the entertainment and most of the services synonymous with a night out are gone. You should not bank on valet service, live shows or buffets and many casinos are not even open 24 hours. They close for a few hours to clean the place from top to bottom.
At least you do not have to worry about other players getting annoyed with your decisions at the Blackjack tables. In fact, you do not have to worry too much about any kind of interaction with other people as social distancing has become the new norm.
The Canadian Gaming Association are well aware of the challenges ahead. Its CEO, Paul Burns, said that just like other facets of public life, going to a casino will be a different experience.
"Where we've had reopenings, demand has been good. Customers do want to come back but they also want to know it's safe. We have to get this right for the customers," he said.
Casinos have reopened or are in the process of opening in Alberta, all the Atlantic provinces (except Newfoundland and Labrador where they are illegal), Nova Scotia, New Brunswick, Saskatchewan, Ontario, and Quebec. Manitoba and British Columbia have not reopened casinos because of health regulations.
All of the 114 brick-and-mortar casinos in Canada closed in a 72-hour period in March when pandemic measures were introduced. Operators have been lobbying ever since to reopen as long as they could provide approved health and safety plans.
Keeping players safe is priority number one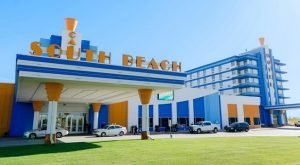 Casinos are quick to publish their new rules for players on their websites as they reopen. For example, South Beach Casino in Scanterbury is now open and some of their safety measures are quite arbitrary.
Masks are available but optional for each guest, table games are still closed until further notice, areas where guests stand in line are clearly marked for appropriate physical distancing, and visitors are encouraged to use the many hand sanitizer stations regularly throughout the facility.
They will also have appointed Safety Ambassadors on the floor to ensure that the rules are followed and security cameras will be monitoring the process. Then there are rules for coughing and sneezing, washing hands, and when gloves and protective eyewear should be worn.
Business is suffering
Even though casinos are allowed to reopen, many of them may choose not to because of limits to capacity. Only 50 people are allowed in casinos in Ontario, which is understandable given the extraordinary circumstances, but this rule may leave a lot of casinos with their doors shut.
"At 50 people, there is not a casino that will reopen. Our operators are prepared to bring in limits that are responsible and safe. Casinos in Ontario have developed very detailed and robust plans. There is a great deal of experience and dedication going into this process," Burns said and added: "No one is going to rush to reopen."
Business is not only suffering because doors have been shut for months. Reopening is not without its costly challenges such as training staff, getting buildings ready with signs and figuring out how to space out the gaming floors.
Corona loves indoors
Canada has been trying to balance between opening up its economy and letting people live their lives while at the same time keeping the number of COVID-cases down. This is a monumental task with few protocols in place.
There is a fear of a second wave of the virus and it is widely believed that it would be triggered by a mass gathering of people at an indoor event.
University of Ottawa associate professor Raywat Deonandan is an epidemiologist is not exactly big on going to casinos in general but even if he was, he would not be going to any gambling venue as it is right now.
"This virus loves indoor clustering of people and casinos are set up to gather people around slots and gaming tables," he said. "It's possible to minimize the threat, but it does take effort, time and resources."
Casinos are already adept at surveillance and enforcement, which are going to be critical to keep people at safe distances from each other. The only thing that is safe to say is that the gambling experience in brick-and-mortar casinos will be different, possibly for the unforeseeable future.