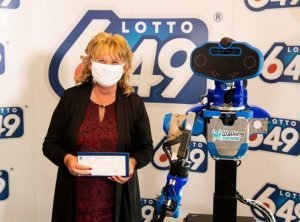 Winning any of Canada's popular lotteries is always a big deal, and before starting off on their new lives, the newly-minted millionaires can always depend on the ceremonial presentation of the check by a beaming lottery official.
That seems to be changing in the COVID-19 age, where contact between humans is being increasingly shunned. On August 6, Quebec lottery history was made when lottery winner Guylaine Desjardins from Laurentides was handed a $6 million check, not from a Loto-Québec employee, but from a life-sized robot, whom her makers have charmingly named SARA.
Safety comes first with SARA
According to lottery officials, SARA was built by college students from the University of Quebec's school of engineering, École de technologie supérieure (ÉTS), through an initiative supported by Centech, a non-profit organization that lends support to budding tech companies.
While she's certainly not winning any prizes for her dazzling smile, SARA has one major advantage over human beings during this time when a global pandemic is sweeping the world – the robot is immune to viruses, and can't pass them on to anyone else, either. In fact, SARA was the only member of the audience at the prize ceremony who did not have to wear protective equipment or stay at a safe distance from other attendees.
The same ÉTS students who built SARA were the ones in control of their marvellous machine as the robot presented Mrs Desjardins with the incredible prize during a prize-giving ceremony held at the Casino de Mont-Tremblant.
"A great experience and a well-deserved outing for our robot who was alone since the beginning of the quarantine!" the Walking Machine club posted on Facebook.
Who's to say robots don't get lonely too?
25 years of playing the same numbers
While quick pick lottery tickets – where the algorithm randomly chooses a set of numbers for you – are becoming increasingly popular, other die-hard lottery lovers are often loyal to the numbers they play for several years.
Guylaine Desjardins was one such player, having played the numbers 1, 12, 27, 30, 34, 49 for 25 years without fail. She bought her winning ticket, as she always did, from Dépanneur Lacelle, the convenience store where she worked.
Following the 1st July draw where all the numbers came up, Loto-Québec claimed it took Mrs Desjardins several days to realize she was the bearer of a winning ticket worth C$6 million, and – understandably – could barely believe her eyes when she realized the incredible news.
But now that she has had time to get used to the idea of being a multi-millionaire, the winner's exciting plans for the future include buying herself a three-wheel motorcycle, sharing the spoils with her two sons, and travelling as soon as it is safe to do so.
And although Dépanneur Lacelle may lose one of its star employees, all is not lost. As the convenience store where the winning ticket was sold, it will also enjoy a share of the wealth, receiving a 1 per cent commission of C$60,000, according to Loto-Québec.