Below you'll find a list of the top 10 best Canadian casinos, with their biggest selling points and most notable features, as well as a Canadian casino map. If you want to try out the world of online casinos instead, take a look down below at some of the best online casinos for Canadian players. You can start playing online with a free bonus or free spins that cost you nothing but could win you thousands!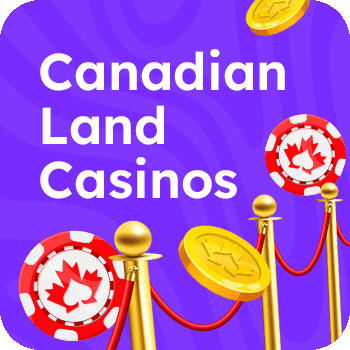 Top Land Based Casinos in Canada
Canadian land casinos are each licensed by the particular province they belong to, unlike online casinos where there are international regulatory bodies which everyone is familiar with.
If you're going on vacation with your friends and plan on hitting up a few Canadian land casinos along the way, you might want to do some research first. So why not check out this Canadian casinos map and take a look at our top 10 land casinos in Canada.
Most Popular Casinos in Canada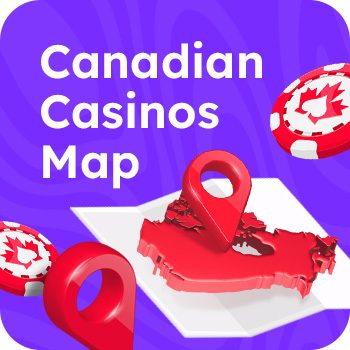 Casino Niagara – Ontario
Casino Niagara has been around since December of 1996. It spans 95,000 square feet over two storeys. A giant among Canadian land casinos. This Canadian land-based casino has over 1,300 slot machines and 30 gaming tables and its own Poker Room. Almost just like a sportsbook online casino, Casino Niagara also has a multi-wagering sports section and promotions year round to keep things exciting for its player.
There's HD screens everywhere so you can watch everything live in full detail. The sports section is a bit limited when compared to online casinos, but it's still more than enough to make a visit more than worthwhile. Even if you're just stopping by for a quick visit, you could still benefit from these promos.
Casino Niagara also boasts four popular restaurants and live entertainment on Friday and Saturday nights at the Yuk Yuk Comedy Club. How good the live entertainment is, we wouldn't be able to tell you. They do have a Comps ('complimentary') system for members though. You can even get complimentary hotel tickets!
Bonus! It has free parking, and you can organize transports to and from the casino by checking out their website or giving them a ring.
Address: 5705 Falls Ave
Niagara Falls, ON
L2E 6T3
Website: casinoniagara.com
Telephone: +1 888-325-5788
Casino de Montréal – Québec
Casino de Montréal is considered not just to be the largest out of all the Canadian land casinos, but also one of the largest casinos in the world. It's situated Ile Notre-Dame across from the Old Port of Montréal. It opened in 1993, and now it's over 5 floors big with 18,000 visitors per day. That's right, every day 18,000 individuals walk through its doors and try their luck at slots and table games. It's been open day and night since 1997, so no matter what time you visit you're guaranteed to have a good time.
Casino de Montréal has over 100 gaming tables, at which according to the website you can play: EZ BaccaratTM, Grand Baccarat, Mini Baccarat, Mini Baccarat, War, Blackjack, Blackjack Switch, craps, Mini Craps, Three Card Poker, Caribbean Stud Poker, Let it Ride Poker, Pai Gow Poker, High Card Flush, Wheel of Fortune, American and English roulette, Sic Bo, Spanish 21 and Ultimate Texas Hold 'em poker among others. Aside from the gaming tables, it has 3,000 slot machines. The casino organises competitions, promos and tournaments to liven up the atmosphere.
This Canadian land casino also has four gourmet casinos attached to it, which have been acclaimed for the quality of food they produce. If you're looking to posh things up, this is definitely where you do it. And the good news is, for this particular casino you only need to be 18 to enter, not 19.
Address: 1, avenue du Casino
Montréal, Québec
H3C 4W7
Website: casinos.lotoquebec.com/en/montreal/home
Email: [email protected]
Telephone: +1 514-392-2746
Caesars Windsor Hotel and Casino – Ontario

As is probably obvious from the title, Caesars Windsor Hotel and Casino is both a hotel and a casino. Casino Player Magazine has named this casino as Best Casino of the Year for 16 consecutive years. That must mean something. Found just inside the border across from Detroit, Michigan Caesars Windsor Casino attracts a lot of customers from the U.S.A as well as Canada. The hotel has around 700 luxury rooms, and a steakhouse attached to it as well so you can satisfy all your carnal pleasures in the same area.
The poker room of this Canadian land casino has over 14 tables. The casino lobby is an ocean of gaming tables and slots, which are set up to also take your drink order while you're playing. Be warned – this is a common trick Canadian land casinos (and all casinos) use to get you to spend more money, by boozing you up. Just know how to pace yourself and your bankroll. Caesars also has a sports bar, where you can watch live sports in HD while also betting against some great stakes.
Address: 377 Riverside Drive East (Hotel, Casino and Valet Entrance: McDougall Ave. and Pitt St.)
Windsor, ON
N9A 7H7
Website: www.caesars.com
Email: [email protected]
Telephone: +1 800-991-7777
Casino Rama – Ontario

It might not be the biggest casino in terms of size, but Casino Rama has a really rich selection of slots and table games ever since its recent renovation. Having been open for 20 years, Casino Rama isn't new to the scene and clearly knows its stuff. Visiting players will find 2,500 slot machines sitting in the lobby, more than 110 gaming tables and 8 unique restaurants to feast from.
If that's not enough to keep you entertained, you can choose to enter a competition or tournament to really spice things up. With 110 gaming tables, you can tell you're going to find a hot table of the game you want to play, whether it's poker or sic bo or Texas Hold 'em. There's also a full-service hotel that comes with it, including luxury suites.
One of the really appealing features of Casino Rama is that it's a famous entertainment site. Performers like Jason Derulo, Carrie Underwood and Jerry Seinfeld have all graced the stage of Casino Rama. Shows like professional boxing matches and performances by Dancing with the Stars contestants have also taken place on the same stage. 'Boring' is not part of the Casino Rama vocabulary, or indeed part of any of the Canadian land casinos we're reviewing here.
Address: 5899, Rama Rd
Orillia, ON
L3V 6H6
Website: www.casinorama.com
Email: [email protected]
Telephone: +1 800-832-7529
River Cree Resort and Casino – Alberta

The River Cree Resort was the first Indigenous-owned casino on Alberta soil, and it's still doing boomingly well a decade into its establishment. Another heavy-hitter like Casino Rama, River Cree Casino has a jaw-dropping 1100 slot machines (going back to the ancient three penny slots of way back when), 39 table games, a very highly-staked poker room, a horse-betting part at Tap 25, a sports betting section that'll keep you entertained for days on end. It's kind of amazing to imagine a thousand physical slot machines lined up after each other. The hotel is rated at 4.5 stars, so if you decide to lay your head down there, at least you know it'll probably be 1000-thread count Egyptian cotton.
River Cree Casino has a membership card which is completely free. Just keep playing games and visiting the casino daily, and you'll start earning points. 2000 points amount to 1 Cree Buck, and Cree Bucks can be redeemed at the gift shop. It's a bit of a roundabout award system, but at least loyal customers are acknowledged in some way. Occasional players can still benefit from the tournaments and competitions put on by the casino for anyone to join.
Address: 300 East Lapotac Blvd Box 179
Enoch, Alberta
T7X 3Y3
Website: www.rivercreeresort.com
Email: [email protected]
Telephone: +1 780-484-2121
St Eugene Golf Resort and Casino – British Columbia
There's only one way to say this – St Eugene Golf Resort Casino is really, really posh. Taking a look at the website is enough to get an idea of what we're talking about. The first thing to note is that it's not a 24/7 casino like most of the others. It only has 240 slot machines and four different table games. Don't worry, all the favorites and classics are there. Just not some of the less well-known games. But St Eugene Casino also has a full-service lottery center and an off-tracking betting room to make-up for the lack of diversity in slots and table games.
The one thing going for St Eugene above all the other Canadian land casinos is its location. This stunning resort is set in the even more stunning gap between the Purcell and the Rocky Mountains. Aside from the casino, you'll also find a gourmet restaurant and a fully-fledged golf course. The combination of mesmerizing scenery and lush casino is more than enough for St Eugene's to make it to our list of favorite Canadian land casinos.
Address: 7777 Mission Road
Cranbrook, BC
V1C 7E5
Website: www.steugene.ca
Email: [email protected]
Telephone: +1 250-420-2000
Niagara Fallsview Casino Resort – Ontario

When it comes to stunning views, nobody can beat the Niagara Fallsview Casino Resort. It's built on a cliff overlooking the Horseshoe Falls and remains the largest casino ever built in Canada. Opened in 2004, it was a $1 billion investment by the Government of Ontario. It features a massive 3,000 slot machines and 100 gaming tables.
The selection of table games is very extensive, from classics like blackjack to Let it Ride poker games. The Niagara Fallsview Casino Resort is actually just a part of the 374-room luxury hotel it comes with. Also in accompaniment of a full-service spa and fitness centre, dozens of shops and restaurants, the Avalon Theatre (which sometimes puts on complex productions of Broadway hits) and over 30,000 sq. feet of meeting and convention space. Bottom-line: it's really big.
It's received a lot of awards for being the best casino in Ontario, one of the best Canadian land casinos and even for being environmentally friendly. It's owned by the same company as Casino Niagara, so the rewards and Comp points system works in pretty much the same way. Niagara Fallsview Casino also organizes tournaments for both slot games and table games. Winners can get huge prizes like $60,000 or $25,000.
Niagara Fallsview Casino Resort has over 20 dining options, with cuisine from all over the world. Whether you're in the mood for a hunk of meat, some pasta carbonara or maybe dim-sum – you'll find it at one of the restaurants at this resort.
Address: 6380 Fallsview Blvd
Niagara Falls, ON
L2G 7X5
Website: www.fallsviewcasinoresort.com
Email: [email protected]
Telephone: +1 888-325-5788
Hard Rock Casino Vancouver – British Columbia

Hard Rock Casino Vancouver in Coquitlam, British Columbia is the largest BC casino by gaming space. Formerly known as the Boulevard Casino and owned by Great Canadian Gaming, the Hard Rock Casino Vancouver was renovated in 2006, and now boasts 80,000 sq ft of playing space, 1,000 slot machines, 70 table games, a five-table poker room, and a high-limit room with 10 baccarat tables and two private tables.
The Hard Rock Casino Vancouver also houses a number of restaurants, including several venues focusing on Asian cuisine, so that hungry patrons can refresh themselves after a long day of games. It is also the home of the Molsom Canadian Theatre. Notable acts who have performed at the 1,074-seat theatre include Barenaked Ladies, The Beach Boys, Chris Cornell, Judas Priest and many others.
Address: 2080 United Blvd
Coquitlam, BC
V3K 6W3
Website: www.hardrockcasinovancouver.com
Email: [email protected]
Telephone: +1 604-523-6888
River Rock Casino Resort – British Columbia

Located close to the Vancouver National Airport, River Rock Casino is a popular stop-over with a lot of players. Not to mention it's the largest land casino in all of British Columbia, with over 70,000 square feet under its belt. The casino has 1000 slot machines, a High Limit VIP room, and horse racing stakes. It's world-famous for hosting Poker international championships in its 24-hour poker room with 14 poker tables. The room features both Limit and No Limit Texas Hold'em, Omaha and Seven Card Stud poker among other versions. Of course, it also features all the classic table games like baccarat, craps, blackjack and roulette.
River Rock Casino comes with luxury suites, a hotel and a spa too. The restaurants are also of very high quality, as some of the other Canadian land casinos in this list. The River Rock Show Theatre might not have seen the same level of guests as the Casino Rama atrium, but it comes close in terms of entertainment-level. Lulu's Lounge is known for its live gigs, which can be the perfect backdrop to a nice cocktail after a day of betting and gaming.
Address: 8811 River Road,
Richmond, BC
V6X 3P8
Website: www.riverrock.com
Email: [email protected]
Telephone: +1 866-748-3718
Medicine Hat Lodge Resort – Alberta

Medicine Hat Lodge Resort doesn't sound too appealing – honestly, it sounds more like a doctor's convention than anything else. But no, it's a huge casino among Canadian land casinos. 27,000 square feet huge to be exact. Medicine Hat Lodge Resort is a premier casino, complete with family accommodation, indoor waterslide park, restaurants, spas, convention centers – we can go on. You get it, it's big.
It has 10 table games, including the classics that everyone holds near and dear. They also have Electronic Roulette, Electronic Blackjack, video lotteries, and Horse Racing Betting. Medicine Hat Lodge also does family packages including the casino as part of it. There are even slots-specific packages for the slots enthusiasts out there. This is one of those Canadian land casinos that are a blast even if you have kids and want to blow off a little steam because they easily amuse themselves with the ton of other features available at the resort.
Address: 1051 Ross Glen Drive S.E.
Medicine Hat, Alberta
T1B 3T8
Website: www.medhatlodge.com
Email: [email protected]
Telephone: +1 403-529-2222
Famous Canadian Gamblers
Michael McDonald: As one of the few players to bank a career total of over $10 million, McDonald is one of the most prolific card players in the country. Born in 1990, McDonald made a name for himself playing online, and has since gone on to win tournaments all over the world.
Jaime Staples: Born in 1991, Staples is one of the new breeds of players rising up through the ranks. Since going pro, Staples has banked close to a million dollars in total prize money. Although still in the early days into his career, Staples is proving to be one of the most promising poker players around.
Guy Laliberté: Although initially earning his fortune through his work founding the famous Cirque du Soleil in 1984, Guy is now better known as one of the best poker players around. After winning many prominent tournaments—famously winning $696,222 at the Bellagio in Las Vegas in 2007—he is known to donate a substantial portion of his earnings to charity.
Evelyn Ng: Born in Toronto in 1975, Evelyn Ng is a well-established poker player in both the online and live poker scene. Although not winning the biggest pots we have ever seen, she earned her best placing in the WSOP Main Event in 2008—finishing 238th out of 6,844 players.
Daniel Negreanu: Having won 6 WSOP bracelets, 2 WPT wins, and the prestigious Card Player Magazine player of the year award in 2004, Negreanu is one of the most prominent Canadian poker players around. He has reportedly earned a career total of over $32 million, which also establishes him as one of the wealthiest poker players ever.
References: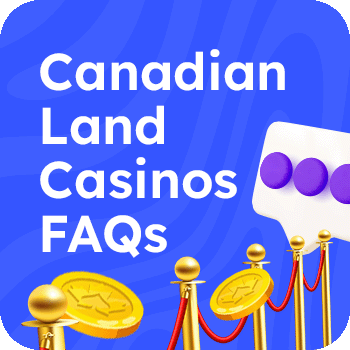 Frequently Asked Questions about Canadian Casinos
What is in a casino?
A casino is a place of entertainment where you can gamble money. People in casinos can play games such as roulette, poker or blackjack, try their hand at slot or fruit machines, place bets on sports games, and more.
What is a casino resort?
A casino resort combines a casino with a hotel. This allows people who travel specifically for the purpose of playing at the casino to drink, dine, sleep and enjoy themselves all in the same location.
Do casinos always win?
Not always – but casinos have to win more than they lose in order to make money. All casino games have a built-in 'house edge' – the advantage that the casino has over you as you play over time.
So why are casinos in Canada so popular?
Casinos are popular because gambling is popular. People like the adrenaline rush that comes with gambling, and the possibility of winning – however slim. Combined with the glamor and excitement that many Canadian land casinos provide, it's no surprise that casinos are such a beloved form of entertainment.
Does Canada have casinos?
You bet it does! Canada's first commercial casino opened in 1989, and the number of Canadian land casinos has grown vastly since then.
How many Canadian land casinos are there?
Canada has over 200 gambling facilities of various sizes and shapes.
Which is the biggest casino in Canada?
The Montreal Casino in Montreal, Quebec is the biggest casino in Canada. It is located on Notre Dame Island. You can read more about the Montreal Casino below.
How old do you have to be to gamble in Canada?
You have to be over 18 to gamble in Alberta, Manitoba, and Quebec. You have to be over 19 in British Columbia, New Brunswick, Newfoundland and Labrador, Nova Scotia, Ontario, Prince Edward Island, and Saskatchewan.
Are Canadian land casinos owned by the government?
Yes, although this varies from province to province. Some provinces have what's called state monopolies which are owned and run by the government. e.g OLG in Ontario
Who controls gambling in Canada?
Each province in Canada has its own official body to oversee gambling. Here's a list of each province's regulator.
| | |
| --- | --- |
| Alberta | Alberta Gaming and Liquor Commission |
| British Columbia | Ministry of Finance |
| Ontario | Alcohol and Gaming Commission of Ontario |
| Prince Edward Island | Prince Edward Island Lotteries Commission |
| Manitoba | Liquor, Gaming and Cannabis Authority |
| Newfoundland & Labrador | Consumer and Commercial Affairs Branch of Service NL |
| Nova Scotia | Alcohol, Gaming, Fuel and Tobacco Division of Service |
| Québec | Loto-Québec |
| Saskatchewan | Liquor and Gaming Authority |
| Yukon Territory | Professional Licensing & Regulatory Affairs Branch of the Department of Community Services |
| New Brunswick | Gaming Control Branch of the Department of Public Safety |

Born and raised in Toronto, Geraldine is a proud Asian-Canadian writer with a passion for storytelling and a deep love of casino games. After earning her degree in English Literature from the University of Guelph, she began her career as a freelance writer, eventually turning to writing about online casinos when she realized she could turn a hobby into a career. She is keen to share her knowledge and insights with readers through her no-nonsense reviews so that you can have the best possible online gaming experience. In her spare time, Geraldine can be found hanging out with her dachschund Frederick or making ceramics.