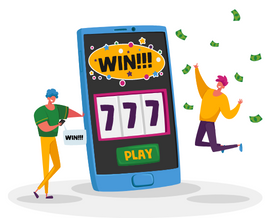 The definition of online gambling is simple. It's any kind of game that involves wagering money – including poker, casino games, and sports outcomes – which takes place online, instead of in a land-based casino or shop. But where did this industry come from, and where is it headed to? We have created this history of online gambling page to attempt to provide some answers to these questions.
The online gambling industry all kicked off in the mid-1990s. However, it was in the early 2000s that online casinos started to be regarded as a legitimate, regulated business, with controls in place to protect players and casinos.
Since the beginnings of the online gambling industry, countless milestones have been achieved, and the online casino industry as a whole is expected to be worth more than 94 billion USD by 2024.
Of course, gambling itself started a long, long time before the 1990s. Let's have a quick look back and learn a bit more about how humans even started gambling, before we dive in and find out more about the history of online gambling.
History of Gambling
Gambling history is fascinating. Believe it or not, gambling is older than the written word! After all, why do people gamble? It's to create that pleasurable adrenaline rush of taking a risk, which is further intensified with a victory. That's a feeling that has been around ever since there were humans on earth.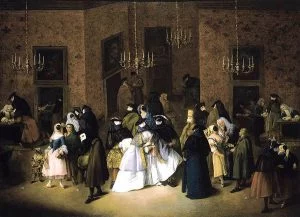 The first evidence of gambling dates back to the Paleolithic period, millions of years ago, when humans first started using stone tools. In Mesopotamia, where we now find countries such as Iraq, Kuwait, Syria and Turkey, the earliest six-sided dice date back to about 3,000BC.
Meanwhile, in China, gambling houses were popular 1,000 years BC. Here, people could play lotto and domino games, and even bet on fighting animals. China was also the place where playing cards first appeared, way back in the 9th century.
The 17th century was a big one for gambling. Poker, now the most popular gambling card game in the world, can trace its roots all the way back to 17th century Persia, with a game called As-Nas. And over in Europe, the Italian city of Venice opened the first ever public, legal casino in the West in 1638, which was called Il Ridotto.
More than a century later, in the United Kingdom, Harry Ogden was the first man recorded to have made a a legal profit from offering legitimate bookmaking services in 1790, when he offered players the opportunity to place bets on horses.
In Canada, up until the 1950s, gambling was legal, but considered to be an unsavoury pastime. The country has had its fair share of small, illicit casinos popping up throughout its history, but Canada's first commercial casino opened in Winnipeg in 1989, followed by a Montreal casino in 1993. Many others followed.
As of 2021, it is estimated that about 75 per cent of Canadians engage in some form of gambling, and this pastime is increasingly moving online, where players can access a wider selection of casinos and games at the touch of a button. With that in mind, let's move on to the history of online gambling, which is a shorter story, but no less interesting.
History of Online Gambling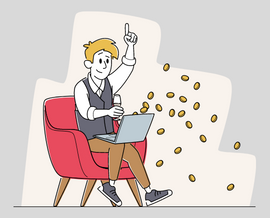 The history of online gambling is much briefer compared to the history of gambling, but it is fascinating to look at it nonetheless.
In 1994, when the internet was completely commercialized, the Caribbean nation of Barbuda and Antigua was the first to regulate online gambling. They granted licenses to companies who wished to offer gambling services via internet casinos online, when it passed the Free Trade and Processing Act.
So when did online gambling start? In 1996, the first-ever online casino – InterCasino – was established, marking the official start of what would become one of the most successful online entertainment forms. It accepted its first real money wager that year, and has since paid out in excess of $3 billion in winnings.
Using Cryptologic, a secure financial transaction software provider, it developed several methods to ensure safe and secure online transactions.
1996 was also the year in which the Mohawk Territory Kahnawake Gaming Commission was established to license and regulate poker rooms and online casinos. And a new Swedish developer called NetEnt launched and created some of the most innovative games at the time, offering online players an extensive range of top performing content including progressive jackpots, slots, live dealer games, branded games and a broad variety of table & card games. Along with the Isle of Man-based Microgaming, which was established around the same time, NetEnt remains one of the giants of the industry to this day.
By 1997 gambling websites offering services to online players increased from just 15 in 1996 to well over 200. A report published in 1998 revealed that online gambling revenues had already reached $834 million. Several poker rooms opened at the time, and Planet Poker introduced the first online version of Texas Hold'em. Multi-player gaming soon followed in 1999, which enabled online players to chat, interact and gamble in an interactive online environment.
Just a few years later, in 2006, the US unexpectedly banned all online gambling services, a move which had an enormous impact on mobile as well as other online gambling services. The US's draconian attitude towards online gambling has made Canada's liberal approach all the more remarkable, and profitable. Not only is it home to the world-renowned Kahnawake Gaming Commission, which licenses online casinos and poker sites, it is now also a hub for a number of online gambling operators and software providers, as well as one of the leading gambling regions in the world.
Furthermore, in 2021, after several years of discussion, Canada finally took the plunge and legalized online sports betting.
Important Milestones In The History of Online Gambling
| | |
| --- | --- |
| 1996 | InterCasino, the world's first-ever online casino is launched |
| 1998 | The first ever Internet poker room is launched |
| 1999 | Multi-player gaming is introduced, allowing players to gamble online and socialise at the same time |
| 2003 | eCommerce and Online Gaming Regulation Act (eCOGRA), an independent, standard authority is created |
| 2006 | United States Senate passes the Unlawful Internet Gambling Enforcement Act. |
| 2008 | Progressive slots see jackpots pass the USD $5.5 million mark |
| 2014 | Bitcoin enters the picture as an accepted cryptocurrency |
| 2016 | Microgaming launches Virtual Reality headset games using Oculus Rift technology |
| 2018 | Canada's The Stars Group buys UK Sky Betting and Gaming in a multi-billion dollar deal |
| 2019 | Flutter Entertainment buys The Stars Group, becoming world's largest online gaming company |
| 2020 | Caesar's buys William Hill for USD $3.7 billion |
| 2021 | A win of over €19 million on Absolootly Mad: Mega Moolah breaks record for biggest online jackpot ever won |
| 2021 | Canada legalizes online sports betting |
The Future Of Online Gambling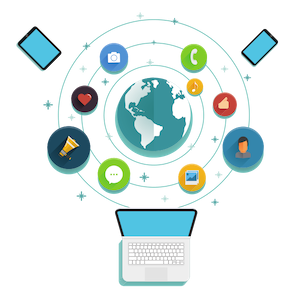 Now that we've talked all about the history of online gambling, let's take a look at what the future holds. The current size of the online casino market was almost 46 billion US dollars in 2019, according to Statista. And as we've already mentioned, the online gambling industry is expected to be worth more than 94 billion US dollars by 2024. This means that the size is expected to more than double in the coming years – a truly incredible rate of growth unmatched by any other industry!
But that's no surprise when you consider what a long way online gambling has come over a period of 20 years. Back then, not only were choices extremely limited, but the casinos' effort at making their product as true-to-life as possible came down to poor-quality graphics and minimal setting.
From live casino rooms that make you feel as though you're in a real land-based casino, to impeccably-designed slots that captivate you with their graphics and storytelling, the evolution is clear for all to see. Besides that, online operators are focused on improving mobile players' experiences and by utilizing the most modern technology to offer the ultimate gaming experience, whether customers are playing on desktop or through a handheld device.
Many operators are now also exploring the potential of virtual reality games that detect player actions to continue enhancing their product offering. The first virtual reality casino, SlotsMillion, launched in 2016, and many more are expected to emerge in the coming years as the technology becomes more sophisticated and demand increases.
Online players could soon enjoy their favorite characters in much closer view via virtual reality; it's entirely possible that virtual reality gambling will eventually become the most popular form of entertainment among online casino players in the future.
Will blockchain leave a mark on the history of online gambling?
Blockchain technology could also become a key component of the online gambling industry going forward. Most online casinos now support Bitcoin and other cryptocurrency payments. But even leaving cryptocurrency aside, blockchain technology is fast, safe, and benefits both the casino as well as the player with its airtight security system.
The future for the industry is bright and we're excited to add more to this page in the coming years!
Stay Up To Date With The Latest Casino News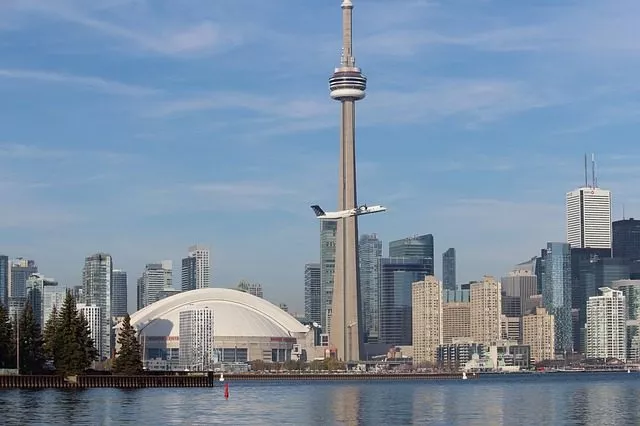 Regulated Online Gambling In Ontario To Launch In Early April

by Adam Nadeau
01/31/2022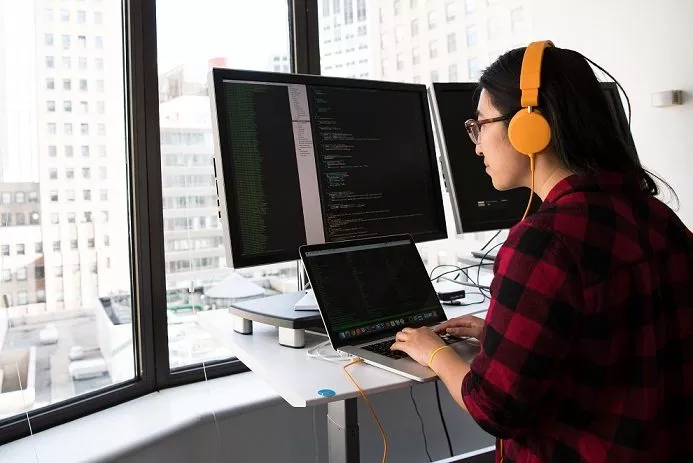 How To Become a Casino Game Developer

by Adam Nadeau
01/26/2022
What's Next for Crypto?

by Adam Nadeau
01/14/2022

Born and raised in Toronto, Geraldine is a proud Asian-Canadian writer with a passion for storytelling and a deep love of casino games. After earning her degree in English Literature from the University of Guelph, she began her career as a freelance writer, eventually turning to writing about online casinos when she realized she could turn a hobby into a career. She is keen to share her knowledge and insights with readers through her no-nonsense reviews so that you can have the best possible online gaming experience. In her spare time, Geraldine can be found hanging out with her dachschund Frederick or making ceramics.