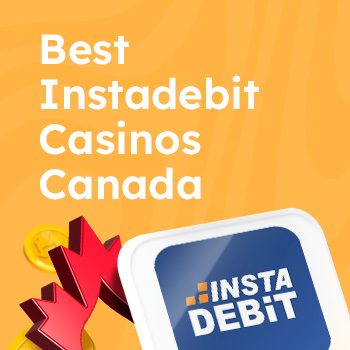 InstaDebit Casinos – Casinos that Accept InstaDebit
As the number of online casinos increases, so does the demand for fast and secure payment methods for deposits and withdrawals. While there are many established e-Wallets out there in the ether, we would like to draw your attention to InstaDebit casinos and why this payment method is so popular among Canadians.
To start, InstaDebit is not an e-Wallet in the conventional sense. Instead, InstaDebit acts as a middleman for transactions between your bank and the casino, adding extra speed and layers of security to your transfers at a nominal fee.
We will touch on everything you need to know in this InstaDebit review and do a little iDebit vs InstaDebit a bit further down to help you with your decision. But first, here's our list of the best InstaDebit casinos in Canada.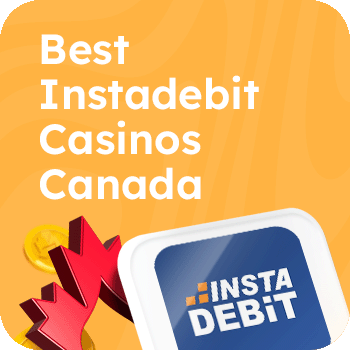 How to set up InstaDebit
There are two ways you can do this: you can either go to InstaDebit's site and register your account there or you can start the registration process from the cashier section in your casino account. If you don't have an InstaDebit account but choose it as a payment method for a deposit, you will be promoted to create one.
You will need to have a few things handy, like, basic personal information (name, date of birth, address, email address), your bank account details and the last four digits of your Social Insurance Number (SIN) to verify your identity.
Once your account has been created, InstaDebit will make a small deposit (less than C$2) within 3-5 business days. You will need to remember the exact amount to verify your new account. Until then you can still use your InstaDebit account for transfers, but at a limited transaction amount.
How to use InstaDebit
When you want to make a deposit or a withdrawal at your online casino, simply go to the cashier section in your player account and choose InstaDebit as your payment method. Then follow the instructions.
How to deposit at InstaDebit casinos
Log in to your online casino player account and go to the cashier section.
Click on deposit and choose InstaDebit as your payment method.
Enter the amount you wish to deposit into your player account and click deposit.
The transaction should only take a few seconds and you're ready to play.
How to withdraw at InstaDebit casinos
Just do the same as when you deposit except you click on withdrawal instead. Keep in mind that withdrawals from your player account will go to your InstaDebit Canada account, and not your bank account. The speed of the first transaction can be found on your casino's website.
It takes 3-5 business days for money on your InstaDebit account to be withdrawn to your regular bank account.
InstaDebit vs iDebit – Which One Is Better?
InstaDebit casinos vs iDebit casinos – which one to go for? After all, between them, they are probably the most popular payment methods in Canada right now, and for good reason. There are just a few things that separate these two payment providers. But the main difference between the two is that you cannot deposit money from your bank account to your InstaDebit account.
Both methods are perfectly safe to use and process transactions at basically the same speed. But InstaDebit has one small edge on iDebit, though. InstaDebit is trusted by virtually every financial institute and all major banks in Canada.
Are there any InstaDebit fees?
It won't cost you a dime to set up your account. It's free and only takes a couple of minutes. When you deposit into your casino account, the transfer is instant but it could take up to 2 days until the money is taken from your bank account. And it will set you back C$1.95.
Withdrawing from an online casino is a two-step process. First the money will go to your InstaDebit account, free of charge depending on the casino, and then you will have to withdraw the money from your InstaDebit account to your bank account, at a C$2 fee per transaction.
Also, InstaDebit only supports Canadian and US dollars at the moment. This means that you can still deposit CAD into your player account and have it converted into EUR. And when you request to withdraw EUR to your CAD InstaDebit account, you will be slapped with a conversion fee.
Is It Safe To Use Instadebit At Casinos?
Let's just say that you will have a better chance to steal Wayne Gretzky's trophy collection than cracking InstaDebit's 128-bit encryption. In other words, all your transactions via this payment provider are perfectly safe.
And on top of that, InstaDebit will never share your banking details with any third-party merchants. You can definitely sleep at night, knowing that your transactions are protected.
InstaDebit Casinos Pros and Cons
There are several pros to list for why you should register and InstaDebit account, but let's be honest, there are a few cons as well. In the end it all comes down to you.
Advantages of InstaDebit Casinos
✅Free to register your account
✅Accepted by all major banks
✅Super easy to use
Disadvantages of InstaDebit Casinos
❌Fees for transactions and conversions
❌Two-step withdrawal process
❌ Only available for Canadian and US dollars
Which banks support InstaDebit?
All major banks and financial institutions in Canada work with InstaDebit, including the following banks which allow online gambling transactions.
But that's not all – thousands of merchants also accept InstaDebit transfers. And the payment method is quickly growing in popularity among online casinos and sports betting sites.
Is InstaDebit the right payment method for me?
If you are looking for fast and secure deposits, then InstaDebit could be the payment method for you. And one of the things that we left out of the Pros section above is that you don't have to worry about keeping track of another bank card.
But we have to get real with you. Since InstaDebit acts just as a middleman and will add extra charges for making sure that your deposits and withdrawals are safe. There are other options out there that you might want to consider.
The two-step withdrawal process leaves a lot of room for improvement and the same goes for only supporting Canadian and US dollar. Supporting more currencies would give players more options and get around those potential conversion fees.
InstaDebit Casinos FAQs
What is InstaDebit?
InstaDebit is a safe and fast way to transfer money from your bank account to an online casino.
How does InstaDebit work?
This payment method acts as a middleman that adds a bit of speed and a lot of security to your online money transactions.
Where can I use InstaDebit?
As long as you reside in Canada, you can use InstaDebit pretty much everywhere online.
Is InstaDebit only available in Canada?
Yes, InstaDebit is only available to Canadian residents with a bank account at a Canadian financial institution.
What do I need to use InstaDebit?
You need to be at least 18 years old, and you need to share your date of birth and the last 4 digits of your Social Insurance Number (SIN) with the payment service in order to verify your identity.
How long does it take to withdraw from InstaDebit casinos?
Withdrawing from an online casino is a two-step process where you first have to wait a couple of days for the money to go to your InstaDebit account.
Then it will cost you C$2 to withdraw from your InstaDebit account to your bank account, and this could take up to 5 business days.
How long does InstaDebit take to process funds?
Deposits are processed immediately. Withdrawals may vary depending on the casino.
Is InstaDebit legit?
It's perfectly legit. InstaDebit uses 128-bit encryption technology to securely transmit information, protecting you and your sensitive data from fraud. InstaDebit casinos' privacy and transactions are monitored by VeriSign, a leading security certification firm.
Additionally, the InstaDebit site holds the McAfee SECURE certification, which means that it has a valid SSL certificate and is free of malicious links.
How do I verify my InstaDebit account?
Register your account and after 3-5 business days you will receive a deposit of less than C$2 into your bank account. Use your InstaDebit login to access your account and click Verify Account. Enter the exact amount that was deposited to your bank account and you're done.
Why does InstaDebit need SIN?
They use your SIN to confirm your identity and protect your transactions.
Are InstaDebit and iDebit the same?
Despite the similarities in the name, and the fact that they are both popular Canadian payment methods, InstaDebit and iDebit are completely different. This page is about InstaDebit casinos – if you're looking for information on iDebit casinos, click here.
Is InstaDebit free?
There is no charge to create an InstaDebit account. However, you will be charged $1.95 CAD every time you make a payment to a merchant from your bank account.
How can I close my InstaDebit account?
How can I contact InstaDebit customer support?
Visit instadebit.com and use the live chat feature located on the bottom right hand side of the screen. You can also email customer support on [email protected] or call the toll-free number which is open all day, everyday of the year on 1-877-88DEBIT.