Online players enjoy online gambling for a variety of reasons, which include anonymity, convenience, interactivity, simulation, escape, relaxation and accessibility. These are all key factors behind the psychology of gambling.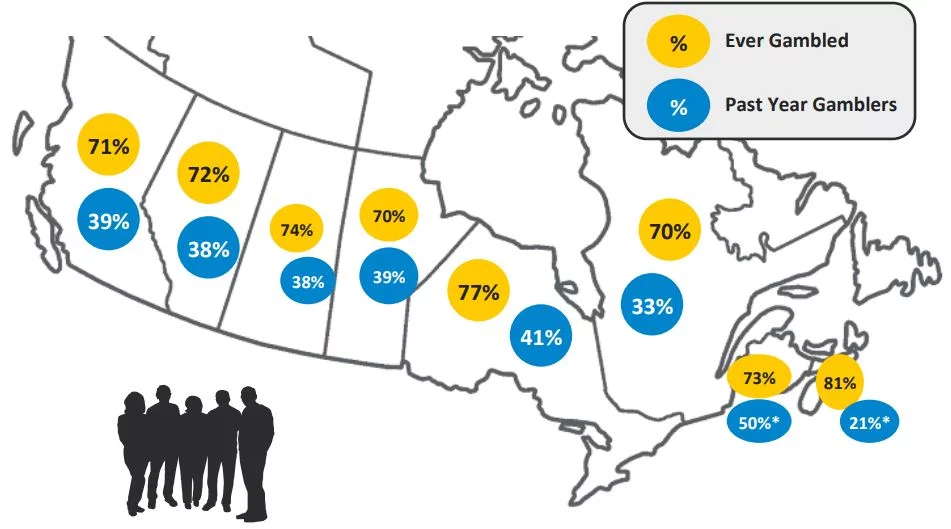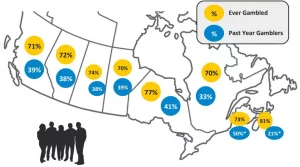 The UKGC has recorded that, within just the past four weeks in the UK, 48% of people have gambled. 53% of those are men, while 44% of them are women. This just in land-based casinos within the United Kingdom, as well as bookie shops. When it comes to online gambling, 17% of people have participated in the activity within the past four weeks.
Up till December of 2016, online gambling behaviour surveys also carried out by the UKGC show that 97% of Brits gamble at home. 55% of those choosing to do so on a laptop, while 43% gambled via a mobile device. Interestingly, this shows a decline in desktop use from 2015 and an according to increase in mobile gambling.
But you might be asking, what are the statistics for Canadian players?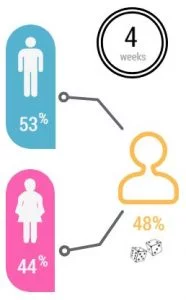 Information pulled from the Canadian Gambling Association shows that, over the year of 2016, around 2/5 individuals gambled. That's 37% of the population. The gambling can either have taken place in a land casino, a slot gaming center or even by buying a lottery ticket. Out of all the provinces, Ontario has the largest percentage of players at 41%. The province with the least gamblers is Quebec, at 33%.
Lottery gaming, especially, shows high participation rates across all of Canada. The highest is shown in ALC regions at 88%, followed by BC and Ontario regions at 82%. Once again, Quebec ranks the lowest in lottery gambling at 79%. Which is still a considerable percentage of the region's population.
Even though a lot of people play table games, it also shows that most players spend the majority of their money of slot games. Seems like, whether online or land-based, slots are the sure-fire favorites of many gamblers.
The below image is taken from the CGA website and shows statistics for each province in Canada. The yellow indicates people who have already gambled some time in their life. The blue percentages indicate new-found players over the past year.
Key Factors in the Psychology of Gambling
Accessibility
Access to the internet is available from home as well as mobile on the move and gives reason to a huge increase in remote gaming. In recent years, mobile gaming has made significant advancements in technology and gaming on-the-go has never been easier. With mobile gaming, even if you don't have access to the internet you could download certain slot games as an app. This means even if you're stuck without WiFi or mobile data, you can still play and gamble all you want.

Accessibility which is available 24 hours a day enables individuals the luxury of enjoying online gambling while removing previously restrictive barriers such as social and work commitments.
Anonymity
Anonymity provides players the opportunity to privately engage in gaming without the fear of being stigmatized. Players enjoy an increased sense of perceived control over the content, nature, and tone of their online experience. Privacy also has the capacity to promote feelings of security and comfort, since there is a decrease in insincerity, judgment or disapproval.
Anonymity provides online players the possibility of enjoying gaming without revealing their true identity, which is even further boosted by cyber currencies (i.e. Bitcoin) enabling players to provide only the minimal details required.
Affordability
Internet access is relatively inexpensive and significantly lowers the overall cost of enjoying casino gaming due to the lack of traveling and beverage costs. Land-based establishments fail to offer the same generous benefits. Online players regularly enjoy deposit based matched bonuses, free spins to celebrate new gaming launches, access to a much bigger variety of games, and continuous promotions and bonuses.
These bonuses fund prolonged play and consequently increased winning chances. Loyalty points collected in VIP programs provide all players including casual players with an opportunity to enjoy free play once enough points have been accumulated. Free play games provide players with the same gaming enjoyment, while land-based casinos do not offer free play options. Free play options, although they do not require any real cash to be played, can be enticing enough to influence a player to try the real money slot instead.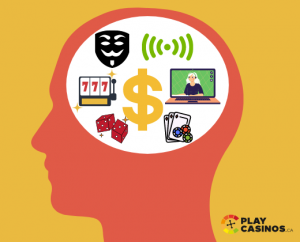 Better Payouts
Various reasons enable online casinos to offer higher payout percentages than those offered in land-based casinos. Running costs are much higher at land-based gambling establishments due to the high rent and large number of staff required to run the place, such as dealers, cleaners, bartenders, security guards, cashiers and floor attendants. Gaming equipment repairs and replacements also hugely contribute to expenses, while online casino costs are hugely reduced allowing it to offer better promotions, frequent bonuses as well as higher payouts.
Convenience and Escape
Online players enjoy playing from a comfortable environment such as their home, at the office or during commuting to work and back, which reduces the feeling of risk boosting daring and exploratory behavior. Enjoyed as entertainment, online gambling offers players the opportunity to escape from daily strains and stresses while enjoying play after a long stressful day at the office. Online establishments like Guts Casino also offer members a one-stop solution to enjoy sports betting, traditional casino games, poker tournaments, and bingo.
Sophisticated Gambling Software
Technological advances allow software developers to create an array of games featuring interesting themes and features. 3D animations, HD quality graphics and surround sound all contribute to an incredible gaming experience.
In addition, land-based casinos are restricted because of space while online casinos offer thousands of slots, table games, card variations, sports betting, live dealer games, bingo and other games. New games are added weekly to encourage players to return regularly and in online gaming, game availability is continual. This eliminates the need to wait for games to become available, as is often the case with land-based casinos.
For those players longing for human interaction, live dealer games provide them with the opportunity to participate in international games streamed from casinos or studios. Players can communicate with other players at the table as well as the croupiers still from the comfort of their own home.
Convergence of Land-Based and Online Gaming
Gaming success is based on players' physiological and emotional experiences. At a land-based casino, this includes the thrill of roulette, a great hand in blackjack, or the sounds of a big win.
Virtual reality replicates this enjoyment while providing online players with an experience equal to walking into a casino, and having hundreds of games – slot and table – at your fingertips. In 2016 the first virtual reality casino launched and proved that it has the ability to take physical gaming to a whole new level. It unlocked a new dimension for online gaming since players can enjoy the interaction offered by land-based casinos from their home computers while still having access to the massive volume of incredible online gaming variety.
Several land-based casinos have recognized the need to market their services online, especially in the mobile sector. Major casinos now aim to offer a compelling gaming experience under one brand offered to both offline and online players. This provides land-based casinos with the ability to strengthen their relationship with current and new players in a very competitive market.

Born and raised in Toronto, Geraldine is a proud Asian-Canadian writer with a passion for storytelling and a deep love of casino games. After earning her degree in English Literature from the University of Guelph, she began her career as a freelance writer, eventually turning to writing about online casinos when she realized she could turn a hobby into a career. She is keen to share her knowledge and insights with readers through her no-nonsense reviews so that you can have the best possible online gaming experience. In her spare time, Geraldine can be found hanging out with her dachschund Frederick or making ceramics.