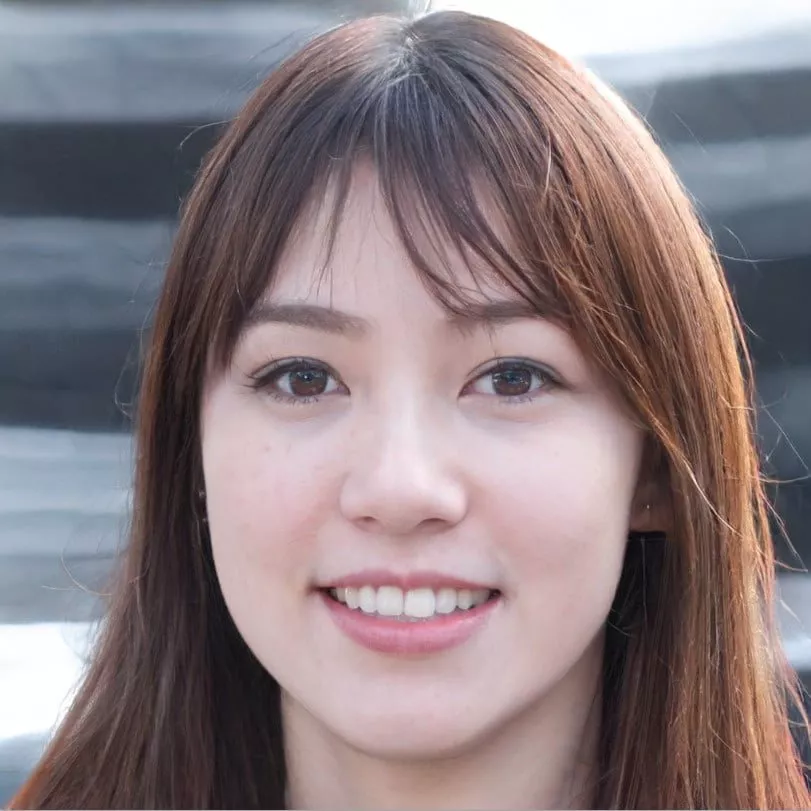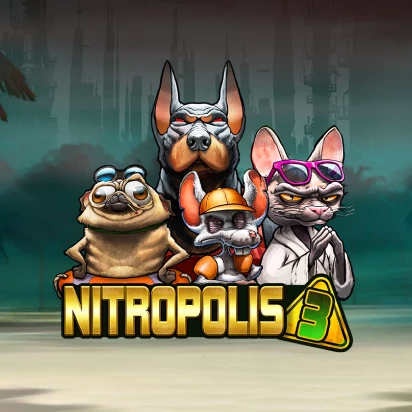 Software Provider
ELK Studios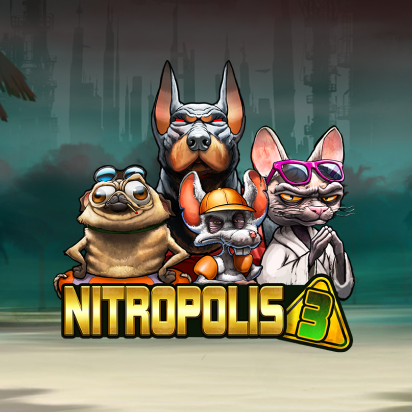 Nitropolis 3 Advantages and Disadvantages
Pros
Numerous highly rewarding bonuses
Up to 1 million ways to win when the Free Spins Bonus round is activated
Generous maximum win of 50,000x of the original bet
Much higher payouts compared to Nitropolis 1 and 2
Cons
Below-average RTP when compared to other slots
Medium to high volatility means that wins are more difficult to land
Not ideal for low rollers
About Nitropolis 3
Nitropolis 3 is an exciting slot game developed by ELK Studios, one of the leading online slot game suppliers in the world. This game is a sequel to Nitropolis 1 and 2, and tags along with the Nitro gangs as they try to outrun Sergeant Nitro Wolf in a heart-thumping adventure across a dystopian tropical beach, where the slot's main characters must survive in a dog-eat-dog world.
The slot comes with 6 reels, 4 rows, and 4,096 ways to win during the base game. Meanwhile, the bonus round expands the game area to 8 rows, giving players up to 1 million ways to win. Players can try their luck on Nitropolis 3 with bets that range between 0.20 and 50 coins per spin.
ELK Studios has set the RTP rate for this slot at 95%, which is slightly lower than the average RTP rate for online slots. This online video slot also features a medium to high volatility level, which means that wins won't land as frequently as slots with low volatility. But when the wins land on the reels, they offer much larger payouts.
How do you Play Nitropolis 3?
Nitropolis 3 is a simple game to master, making it perfect for beginners. With that said, the slot comes with several exclusive features that makes it an ideal choice for more experienced slot players who enjoy slots with higher-than-average volatility.
To play Nitropolis 3, every player must first find a reputable online casino that features this slot game and register an account. After that, they will have to verify their account and deposit funds so they can bet on the Nitropolis 3 slot with real money. You can also play Nitropolis 3 in demo mode, if you want to get a taste of the game.
Once players access the game, they can place bets that range between 0.20 and 50 coins per spin. This can be done by clicking on the "Coins" button located at the bottom left of the screen and selecting a preferred bet amount.
After that, players need to click on the "Spin" button located at the bottom right of the screen. The main objective of the game is to form a winning combination on a payline.
The winning combinations must contain 3, 4, 5, or 6 matching symbols to receive a payout. It is worth noting that there are 4,096 ways to win in the base game, while in the bonus game the number of winning ways is increased to 1 million.
Players looking for a hands-off way to play can also use the "Auto Spin" button located at the top right corner of the screen to spin the reels 10, 25, 50, or 100 times in a row.
Nitropolis 3 Game Gallery
Nitropolis 3 Slot Features
Nitropolis 3 comes with several features that make the gameplay rewarding and exciting. Let's take a closer look at each one so you can decide for yourself whether this slot is worth trying out.
Nitropolis 3 Slot Theme and Design
Nitropolis 3 features an animal theme, with the same animal characters as the previous slot games in the Nitropolis game universe. This particular slot is set in a dystopian world where the animal gangs are running away from the evil Sergeant Nitro Wolf on a tropical beach, seemingly surrounded by toxic waste.
The color scheme of the game is muted and includes greys, rusted yellow and radioactive green. Meanwhile, the electronica soundtrack maintains a steady beat as players spin the reels – which amps up to a metal soundtrack as players land big wins.
Overall, we found the slot design and theme to be engaging – but we wouldn't go as far as to say that they're innovative. Then again, fans of Nitropolis 1 and 2 will find lots of familiar symbols and similarities with the prequels.
Nitropolis 3 Game Mechanics and Features
Nitropolis 3 features an avalanche mechanic, which means all winning combinations are removed from the screen to make way for more tumbling symbols. This gives players the chance to land more than one win with a single spin. With each avalanche, an additional row is added to the reels to give players even more ways to win. The avalanche mechanic will keep activating until there are no further winning combinations on the reels.
Next, let's look at all the bonus features and bonus symbols that are part of Nitropolis 3.
Wilds
The Wild symbol in Nitropolis 3 substitutes for all other symbols except the Bonus Scatter, Both Ways, Redrop, Super Bonus, and the Nitro Feature symbols.
A Wild symbol can appear within a feature frame and if it's part of a winning combination, it will be transformed into a Nitro Feature symbol.
Bonus Scatter
The Blimp Bonus symbol in the Nitropolis 3 slot is used as a Scatter symbol that can trigger the Bonus Game feature.
Nitro Reels
There are small Nitro Reels included in this slot game which are covering two symbol positions and have a size of 4, 6, 8, 10, or 12 1×1 payout symbols.
One small Nitro Reel can hold a Super Bonus symbol and it will be counted as one 1×1 symbol. A big Nitro Reel will cover six symbol positions that contain 2, 3, 4, 5, or 6 2×2 payout symbols.
Nitro Features
There are 3 different Nitro features that affect the Nitro Reels. The first one is the Nitro Match. This makes all symbols in the Nitro reels on the same and adjacent reels match with a winning symbol on an adjacent reel for every Nitro Reel.
The Nitro Reels that are on the same and adjacent reels as the Nitro Upgrade symbol will make an upgrade that results in adding additional symbols to the Nitro Reels.
Lastly, the Nitro Wild symbol will make all symbols that are on the same and adjacent Nitro Reels as the Nitro Wild symbol to be replaced by Wild symbols.
Redrop
When there are no more wins provided from the reels, the Redrop feature will be activated. During this feature, all Bonus symbols and Nitro Feature symbols remain on the reels while the Nitro Reels respin.
Both Ways
The Both Ways feature will be triggered when it lands before a payout, which will make all ways to pay left to right and right to left. This feature will continue until the Avalanche lasts.
Free Spins Bonus Game
Landing on 3, 4, 5, or 6 Bonus Scatter symbols will result in 8, 12, 16, or 20 free spins, as a reward for triggering the Free Spins Bonus Game. During the free spins, all Nitro Reels will become sticky.
The safety level in the bonus game will advance by one row for every free spin that provides a win, where every new free spin will start at the active safety level.
Additionally, combining Bonus symbols and Super Bonus symbols will activate the Super Bonus Game, which is played at the maximum 8 rows with the Both Ways feature.
X-iter Bonus Buy Feature
The X-iter feature is a Bonus Buy that allows the players to buy their way into one of the five bonus features that we've mentioned above for a cost of between 2x and 500x the bet.
How to Win at Nitropolis3
As with all slot games, Nitropolis 3 is a game of chance. The result of each spin is determined by a random number generator, so there are no strategies players can use to influence their chances of winning. However, there are ways players can extend their gameplay to make the most of their funds.
One way to do this is to check whether the online casino housing the game features a promotion that rewards free spins for Nitropolis 3. Keep in mind that there might be wagering requirements included in the promotion, but players can generally fulfil them on the same slot.
In terms of game dynamics, the best way to land a big win at Nitropolis 3 is by activating the bonus features included in the game, particularly the Free Spins Bonus. In fact, a combination of the Free Spins and the Avalanche Mechanic could unlock the game's maximum 50,000x win.
What's the Maximum Amount You Can Win at Nitropolis 3?
The maximum win on Nitropolis 3 is set at 50,000x the original bet amount, which is a generous sum to win in a slot game, and well above the average maximum win we find on most other slot games.
To bag this epic win, players need to be lucky enough to land 20 free spins with the Super Bonus Game feature. When the free spins are activated, the reels expand to the maximum 8 rows. Once here, players will need to get lucky a second time and land multiple Nitro Reels to unlock the biggest payouts possible.
Nitropolis 3 Slot Verdict
Nitropolis 3 is a turbo-charged version of its prequels on every level. The game theme is familiar enough to Nitropolis 1 and 2 to be a hit, the features are varied and rewarding, and the maximum 50,000x win is a massive improvement from the maximum 10,000x win on the prequels.
The slot also comes with stellar graphics and animations – a true testament to the experience of ELK Studios. Plus, players can try their luck on this slot on any device, making this slot an ideal game to enjoy on the go.
Games similar to Nitropolis 3
Nitropolis 3 Casino Game FAQs
How do you play Nitropolis 3?
First, you need to find a reputable online casino that accepts players from your country and features the Nitropolis 2 slot. Then you will open the game, choose a suitable bet amount, and click on the "Spin" button. Now all that is left is to wait for winning combinations to be formed on the reels.
Is Nitropolis 3 available on mobile?
Nitropolis 3 has been developed with the latest HTML5 technology, which allows the players to access this slot on any Android or iOS mobile device.
Where can I play Nitropolis 3 for real money?
The Nitropolis 3 slot game can be found at any online gambling site that collaborates with ELK Studios, including Pokerstars, Leovegas and Casumo.
Can I play Nitropolis 3 for free?
There is a demo version of Nitropolis 3 on the official website of ELK Studios which allows the players to try out the game for free.
Can I play Nitropolis 3 in Canada?
Yes, you can play Nitropolis 3 in Canada. You can also wager with CAD on this slot game.
What is the Nitropolis 3 jackpot?
The jackpot on the Nitropolis 3 slot is set at a maximum of 50,000x the original bet.
Which game studio created Nitropolis 3?
Nitropolis 3 was created by ELK Studios.
When was Nitropolis 3 released?
Nitropolis 3 was released in March 2022.
Which is better, Nitropolis, Nitropolis 2 or Nitropolis 3?
Nitropolis 3 is better than its prequels as it provides a maximum win of 50,000x when compared to the 10,000x for Nitropolis 1 and 2.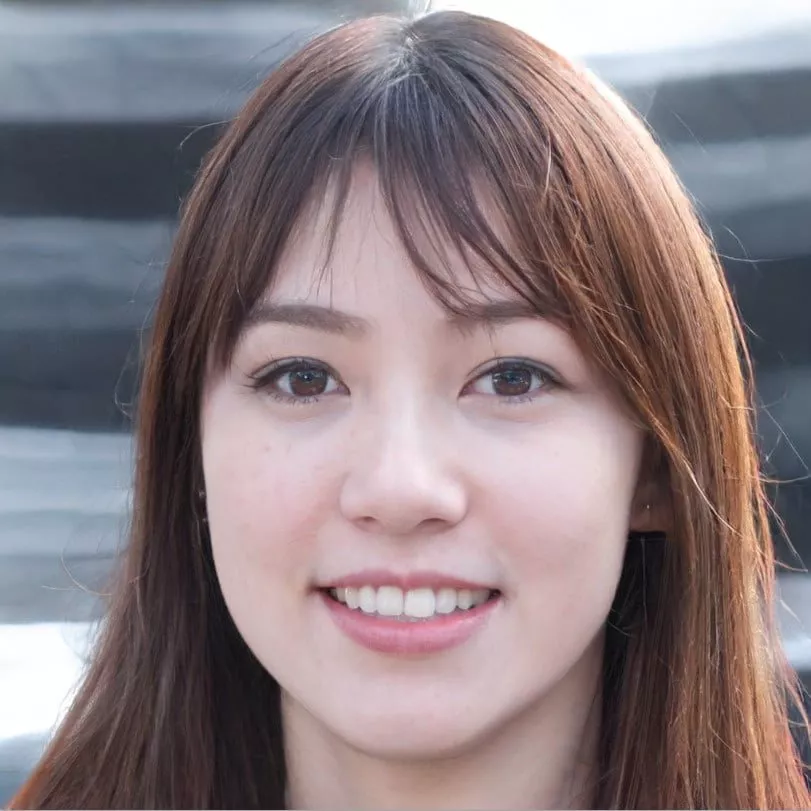 Born and raised in Toronto, Geraldine is a proud Asian-Canadian writer with a passion for storytelling and a deep love of casino games. After earning her degree in English Literature from the University of Guelph, she began her career as a freelance ...
Read more about Geraldine Nguyen