Pragmatic Play Casinos
Pragmatic Play is led by a team of compact, hard-working individuals who strive for gaming excellency in the online gambling industry. This provider has 80+ HTML 5 optimized slots under its belt, available in 78 countries. And, you guessed it, Canada is one of those 78. Which is exactly why we're reviewing Pragmatic Play today. The company creates really solid, well put-together slots (and some other stuff) which deserves some attention. Aside from that, Pragmatic Play itself has achieved quite a bit in its short history. Find out more about what makes Pragmatic Play such a successful company by reading the review down below. If you want to skip all that and just spin some Pragmatic slots, then hit the Visit button on any of the casinos down under.
Best Pragmatic Play Casinos Canada
About Pragmatic Play
Having been established in 2007, Pragmatic Play is well over a decade old at this point. It's certainly come a long way since those years, as can be evidenced by the products themselves. It's also won a number of awards along the way, in recognition of its achievements. But you can read more on those in the next section if you're interested.
Pragmatic Play boasts that it is one of the fastest growing mobile-first providers for iGaming. It's also characterized by having 'unique in-house' products that are truly a labor of love. Consistently, Pragmatic has released high-end quality slots that can be distinguished head and shoulders above the rest. In fact, it prides itself of having the ability to customize slots according to the clients' needs. Which – let's face it – basically every other provider does as well.
Based in Malta itself, the provider is licensed under a number of reputable titles. Namely, the UKGC (United Kingdom Gambling Commission), the MGA (Malta Gaming Authority), and Curacao. When it comes to legislation and security, Pragmatic definitely has this area covered. Which gives players peace of mind that these products are 100% fair and secure.
Of course, this is what the company says about itself. And it is true – Pragmatic Play slots and games do have a refined edge to them. But let's not get ahead of ourselves here, and take a closer look at their slots personally.
Pragmatic Play Games
Personally, we always think it's a good sign that a provider which has been around for more than 10 years only has around 80+ slots to its name.
Why?
Because it assures us that it's not just about pumping out the next slot for this provider. And that the slots themselves are not just copied mechanics with a different face to make them look unique. When a provider spends time making a slot, it's always a note-worthy quality.
The provider doesn't just create slots. For one, it also produces some decent table games like American Blackjack. Very recently, it has also launched Pragmatic Play Bingo and Scratch-Cards. The two products have proved to be pretty successful.
When it comes to the scratch-cards especially, the company has put out over 7 of them. Players can win a top prize of $1,000,000 on the Wolf Gold slot. Not bad for a second of scritching at some foil.
But enough chit-chat. Let's get cracking with some to the point verdicts about Pragmatic Play slots!
Pixie Wings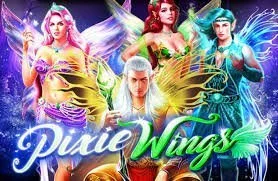 Pixie Wings is a 5 reel, 50 payline slot with an RTP of 96.37%. Players can bet anywhere between $0.50 to $250. The slot has adjustable bet-line wagers and coin values.
The aim of the game in Pixie Wings is to pick a side in the Pixie royal family, and fight your way to the throne! It's a colorful game with plenty of action.
When it comes to special features, the slot has a Wild symbol, a Free Spins feature which can be retriggered during the round (for a +1 free spin) and Stacked Symbols during the free spins. Think of the wins!
Jurassic Giants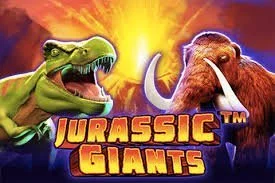 Jurassic Giants has a self-explanatory title – it's about a bunch of creatures that were around just after the Jurassic period. We're talking about mammoths, saber-tooth tigers and all the other cool animals.
The slot has 6 reels and 4096 ways to win (wowza!). It also has an RTP of 96.01% and stacked Scatter symbols on all reels. Players can win up to 250 free spins. When 'Beast' symbols meet during the Free Spins round, it can multiply the total win of the spins by up to 5x.
As you can imagine, these are some darn impressive features to have on an online slot. 4096 ways to win, up to 250 free spins and multiplied wins up to 5x is no joke.
Queen of Gold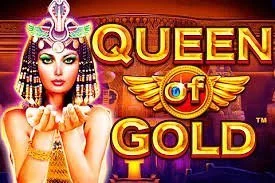 Queen of Gold slot was shortlisted for game of the year for a reason. Mainly, because you can trigger multipliers increase up to 100x if you're lucky enough.
The slot has 5 reels and 25 paylines, which is standard for online slots. However – it has a Win Multiplier reel which makes it much more interesting than other online slots.
It also has an RTP of 96.5%, and the 10 Free Spins allowed by the slot can be activated carrying over the win multipliers. And that's pretty much why players were such big fans of the gameplay of Queen of Gold.
One thing we truly appreciate about Pragmatic Play slots is that you have control over both bet-line wagers and coin values. It gives casual players and highrollers alike more flexibility in their bets.
The other thing we like about these products is that there's something about each one that makes it just that bit different. Whether it's about paylines, multipliers or free spins – there's a slot for everyone out there.
Awards Won By Pragmatic Play
As we already mentioned above, Pragmatic Play has collected quite a number of awards for itself over the years. Whilst, there are many to pick and choose from, here are some of its more recent accomplishments.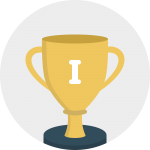 Winner of EGR's B2B Award Category,

'Software Rising Star'
"It's a real honour for us to win this prestigious accolade. Our focus is to deliver state-of-the-art products with first class service, which can only be achieved by having a great team of people." – Yossi Barzely, Head of Business Development, June 2017.
Winner of Videoslots' Award,

'Rising Star'
In November of 2017, Pragmatic bagged itself the title of rising star in the first ever edition of these Videoslots awards.
Shortlisted for EGR's Award,

'Game of the Year'
Even being shortlisted is enough when it comes to the EGR awards. Pragmatic Play had its popular slot, 'Queen of Gold', shortlisted for the award in 2017. It was the second consecutive year that a Pragmatic slot was up for the award, which tells you something about the quality of its products.
Pragmatic Play Casinos & Partners
Given that they have been around for a decade, it's no surprise that Pragmatic Play has a lot of friends in the business. That's a good thing for CA players because it means there are more online casinos out there that provide Pragmatic games.
Here are some of the most important Pragmatic Play casinos around:
Any of these casinos will give you access to either playing the slot for free or playing for real. They are also casinos which accept Canadian players and which have great player experience reviews.
Pragmatic Play is also partners with other software providers, like iSoftbet. You can read more on this provider by reading our iSoftbet review.
What to Expect from Pragmatic Play
Pragmatic Play has been growing strong for a long time now, and doesn't seem to be slowing down anytime soon.
More than that, the provider has managed to retain the quality and uniqueness of their products even in the quest of profit and success. That's something we can truly appreciate about any company. Judging from an overview of their products, Pragmatic Play is one of the better iGaming providers in the industry. Players are sure to enjoy taking an occasional spin on these slots with their dynamic gameplay and profitable payouts.

Adam is the founding father of the site and has been around since the very beginning. He started Playcasinos.ca out of a college dorm room in 2013 as a personal blog documenting his favorite slots and sharing his games expertise with the world. Since then, he has seen it grow from a scrappy little site to the Canadian casino review hub we all know and love. An online slots fiend with a high tolerance for risk, Adam also has a number of surprisingly serene hobbies, including hiking, camping and fishing (the stress of playing high volatility games all day has to come out somewhere, right?) As the site has grown, his site manager duties have been delegated and he now handles sales and marketing for Playcasinos.