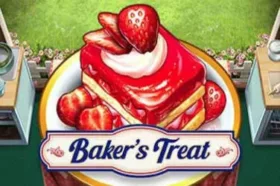 Software Provider
Play n GO
Baker's Treat Pros and Cons
Pros
The free spins on Baker's Treat are very unique, making for great gameplay.
You can walk away with a big pay out from the free spins mode.
The free spins can all be activated independently of each other meaning you could hit a new one each spin.
Cons
There aren't a lot of different features in Baker's Treat.
The free spins can sometimes take a long time to trigger.
About Baker's Treat Slot
Baking shows have captured the imagination of the world over the last few years. So much so that they have even managed to invade the world of slots. Revolving around the act of baking cakes Baker's Treat drags you right into the highly competitive world of cake baking competitions in this great new slot from Play'n GO. Can you bake the cake that will earn you the top prize and walk away with a big win?
The 5 reel and 15 payline game means that every time you spin there are plenty of chances for you to create a winning line. The wager range of $0.15 to $75 means that players working with almost any kind of budget can get some form of enjoyment from Baker's Treat. The maximum win of up to 5000 times your stake means that Baker's Treat offers you the potential of a huge win and the RTP of 96.04% is a great return for a game that gives you the opportunity to walk away with a healthy cash prize.
What is the theme of Baker's Treat?
The background to Baker's Treat is a table for a baking competition. It shows all of the different cake symbols being placed and ensures that the player knows exactly what is going on with the reels. It even has a slight garden showing just past the table to add to the Great British Bake Off feel and is completely at one with the atmosphere created by the graphics and sound.
Each symbol in Baker's Treat is drawn to perfection. With a delicious-looking selection of cakes placed on the table, it's almost as though you are there in the tent taking part in the quintessentially British pastime of baking cakes. This creates a relaxing atmosphere that almost makes you feel like the baker in the title of the game. The music adds to this with a delightful tune that matches up to the atmosphere of the game perfectly.
How to play Baker's Treat
Baker's Treat is a game that tries to stick to the tried and tested video slot formula. It includes wild symbols and free spins list a lot of video slots, but it also has a unique free spins feature that can really take things to the next level. The first feature is the Flour Power Free Spins feature.
Should I play Baker's Treat?
Baker's Treat has a very distinct look to it. The cakes are all well designed and look delicious. The aesthetics of the game all come together to create an excellent cake competition experience. The features included in Baker's Treat are all based around a free spin feature. While they're all derivatives of the same thing, they do offer enough variety and come around often enough to create an engaging experience when you play Baker's Treat.
Slots similar to Baker's Treat

Adam is the founding father of the site and has been around since the very beginning. He started Playcasinos.ca out of a college dorm room in 2013 as a personal blog documenting his favorite slots and sharing his games expertise with the world. Since then, he has seen it grow from a scrappy little site to the Canadian casino review hub we all know and love. An online slots fiend with a high tolerance for risk, Adam also has a number of surprisingly serene hobbies, including hiking, camping and fishing (the stress of playing high volatility games all day has to come out somewhere, right?) As the site has grown, his site manager duties have been delegated and he now handles sales and marketing for Playcasinos.